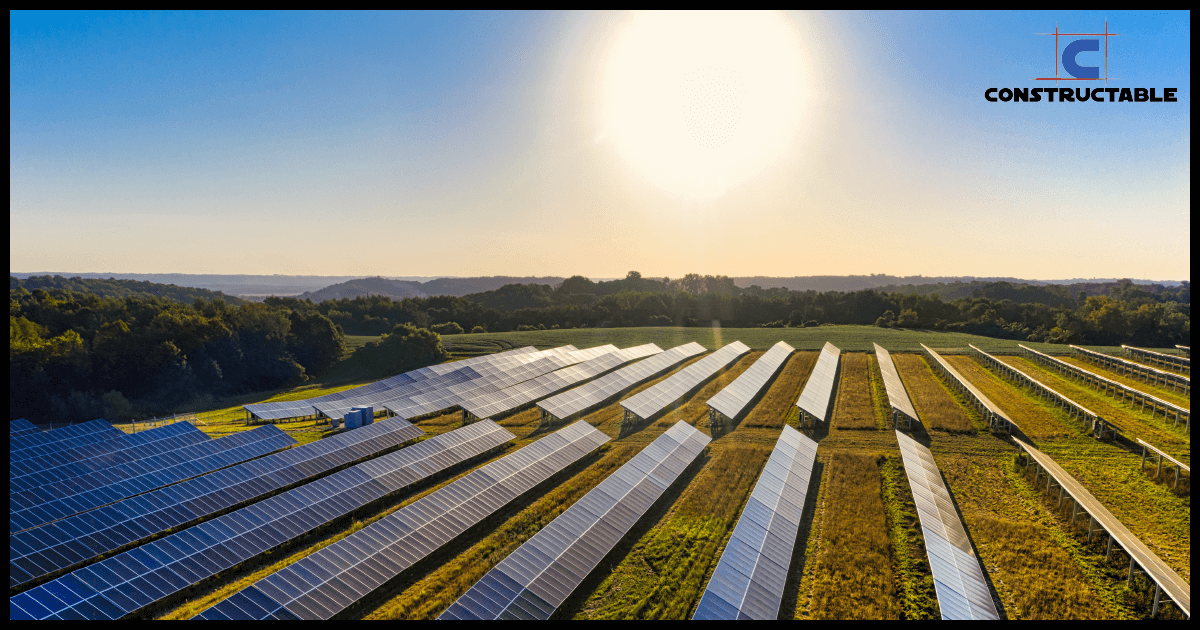 New Project Announcement: Solar Farm O&M
Renewable energy is the future. Energy independence, a worthy goal for our nation, starts with solar energy. Among the best places to build such solar farms are in southwestern states like Texas and New Mexico, who enjoy near constant daylight and wide-open skies. These states are among the most important to Constructable's work as well. Fittingly, Constructable announces the awarded project of a solar farm O&M in Texas.
O&Ms: A Core Feature of Constructable
The O&M we are to build in Texas is a core part of our business. We partner with large EPCs to construct operations and maintenance buildings (O&Ms) out of pre-engineered metal (PEMB). These PEMBs house the staff, equipment, and day to day operations of the farm itself. The O&M, while a small part of these vast projects, is truly the central part of the farm in that it controls the entire millions if not billions of dollars operation. From a SCADA room and staff accommodations, to machinery repair shops, tool storage, and even briefing rooms, these buildings might be small compared with the billions of dollars of investment in the larger farm, but they pack a mighty punch as the beating heart of operations.
O&Ms are most often constructed using the prototypical pre-engineered metal package. These are pre-fabricated packages of steel that form the rigid structure of the building. On such a structure can hang cranes, machinery, and the beefy metallic shell to house the staff from the elements. As high-flexibility, low-cost, and well done structures that can be built anywhere, they are the common choice for industrial complexes. Remoteness is sometimes the biggest requirement for these structures as the best locations to collect the sun's rays are often the most inhospitable places.
This is no problem for an O&M because they are top-notch buildings constructed at a cost-effective price. PEMBs are flexible in that they can be built to suit nearly any floor plan; they can be augmented as blast-resistant, sound-resistant, and specialty-requirement buildings; and they can be erected nearly anywhere. A quick tour of nearly any energy field will yield a myriad of pre-engineered metal buildings serving as field operations centers.
Pre-Engineered Metal Buildings: Our Expertise
Constructable has focused ourselves on constructing PEMBS. This includes all the trades of a typical building erection: MEP, finishes, specialties, site work, etc. Paired together in a single contract, Constructable brings great monetary value to the project in keeping a strict focus on quality of this most-important-of-structures on a gargantuan project. We also keep costs down by combining all trades under one roof, literally and metaphorically. The customer only need manage one contract because we can take care of the rest for you.
This is how we bring collaboration and savings to your project. You, the customer or EPC, gets the benefit of a single contract and a most important of parts of your project being emphasized. And we get to demonstrate our expertise in building PEMBs as O&Ms.
This means that Constructable is a single source solution for your solar farm O&M. We are experts in the field to mind the details and manage the project for your SCADA room, staff housing, and O&M; and when employees are happy, they work happily; and when they work happily, production increases, making you and your customer happy. It all starts with the O&M; and it is finished by Constructable.
Build with us HERE.